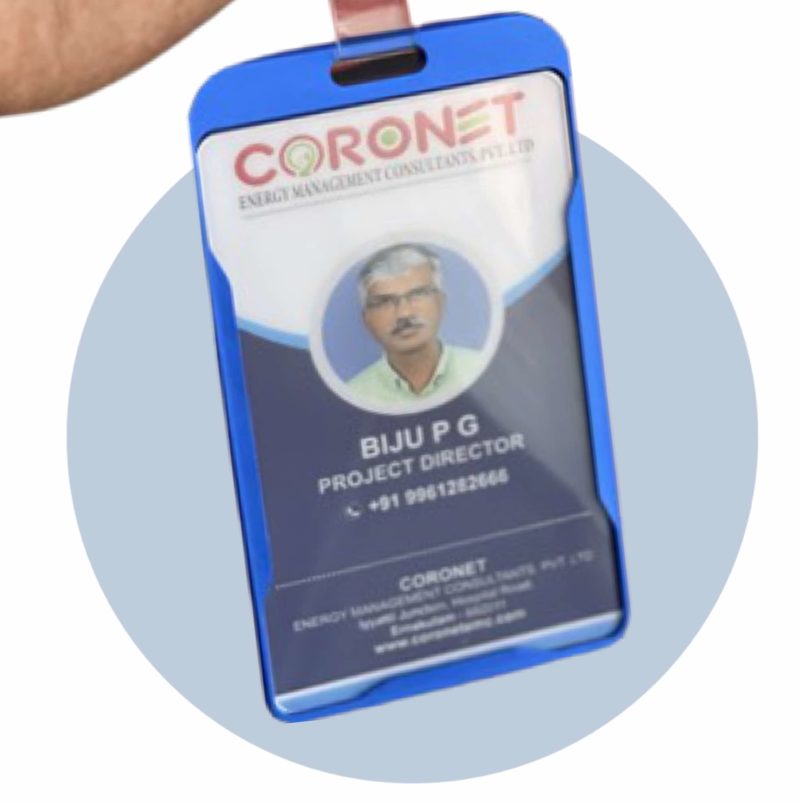 ID cards ; a must during this pandamic, with our present culture and precautionary measures imposing rapid changes with regards to your  security.Its a time when your identity is being questioned as part of  safety norms from the government.With only authorised personalities allowed access to certain areas,and safety measures strictly imposed ,all these have a common factor IDs.
For the  government, IDs are a source of assurance that individuals get the service they need,such as vaccines,medical care etc.For the organizations ,IDs are like a protective mask ensuring only their trusted employees have  access to their premises and special zones.
Who we are ,where we are headed ,your work sector are all concerns to the authorities during this pandamic.Present scenario has bought a drastic change in commerce and in healthcare digitalization in every field,the gateway of which is verification.
ID cards these days have become an integral part of our current culture.Some appreciate the privileges it carries while others see the stubborn policy implementation.Personals  working for hospitals, service sectors like Meals on wheels , palliative departments,home care agencies , pharmacies are all supposed to carry ID  cards as there is no room for a mistake.
Purpose of ID cards:
The main use of ID cards is ofcourse verification, verifying the reliability of the person holding it .An ID issued by the government or agency ( for eg: drivers license, military identification,passport ,Aadhar etc identify the issuing body This includes the picture of the holder for visually matching the face .Details like address,birthdate ,signature etc will also be included in such ID cards.
An ID card issues by the company however controls the accessibility of employees to certain areas.ID cards improve  your customer response as well as services ,if used to organise customer data.This is applicable for medical business.
Educational institutions also isuue ID cards to its staff,students and tutors for safety reasons.To track the pick up and drop,ensure the safety of the students and also to keep track of their attendance and participation.
Why ID cards for Organisations:
ID cards are must have for almost all types of organizations,whether big or small.The list of reasoning on the use of ID s goes on.Ranging from improving the overall security of the company to helping know each other ,security of the staff to customer relations,the list is never ending.
Few reasons why your company should have employees IDs would be to ensure :
* Security
*Employee interaction
*Morale of the company
*Customer relations
*Accountability & last but no the least
*Branding.
ID cards and their types:
ID cards adds ligitimacy to any and every business.A sneak leak into the types of ID cards to meet your requirements.
PVC Cards:
The most common ID cards ,plastic or PVC Cards fall into many sizes ,thicknes  and colors.PVC cards come along with additional features like magnetic stripes,chips etc.
Proximity Cards:
These cards stores the cardholder details and data via an embedded antenna.Such cards are mainly used for access control applications.
Pre-printed Card:
This is an option for membership, loyalty or other ID card where a name ,number  or barcode might be added. Customizable  options are also available which makes on the spot personalizing easy.
Smart Card:
Smart Card as the name suggests store data in a chip along with a microprocessor.
It can hold  upto 100 times more data than a standard magnetic stripe ID card.
Why Printit ID cards:
Printit assure the safety and security of all health care workers serving our economy, day and night with prompt timely services.We are currently in full operation,implementing precautions to ensure health and safety of our staff and clients.
Printit is dedicated to serve as quickly as possible by providing :
* ID cards supplies and laminates
*Lanyards or neck strapes – standard or custom with badge holders.
*On- time delivery.
* Bulk as well as minimum quantity without compromising the quality ( we even print a single ID card)
* High definition printing.
* Options to choose from.
This pandamic when both quality and security are placed  at premium,we have our services available  both online and offline, ensuring safe printing.
With so many options available,it's quite easy for any organization to find one that fits their requirement and pocket.
Reach out to us anytime for quality assured and time bound services.
Do check out our ID card printing solutions at :
 *STAY SAFE &  STAY STRONG*