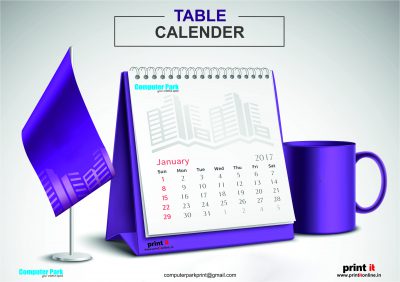 PERSONALISED TABLE CALENDAR 2019
₹299.00
Create your own personalised calendar. Put pictures of your family or if you are planning to gift it send us their pictures. Rest assured your gift will be on their table for 12months.  For corporate companies this is a great way to increase brand visibility by added your logo etc on to these customized calendars.
DESIGN SIZE
You are required to send us 12 pictures which will be added to each month. The size of the picture should be 9inches width x 3inches if its landscape photo or for portrait pictures it can be 3inches width x 5inches height.
SPECIFICATIONS
TABLE CALENDAR IS LANDSCAPE MODEL OF SIZE 9inches length x 6inches height.
The card board is white in colour
There will be 6double size sheets of size 9inches x 5inches, you can add two more double sided sheets for the same price. It can be used as cover page and ending page.
TEMPLATES
For Portrait Calendar – https://drive.google.com/file/d/1BpkiCg-jT99MHYGjYdaktrFJ3z7En2XP/view?usp=sharing
For Landscape Calendar – https://drive.google.com/file/d/1rxPRwDCXcUgx3l5dlGdknh2LrOfpOBlR/view?usp=sharing
TIME DURATION 
BULK RATES
Compare